TYPES OF WOOD
The types of wood used by modern door and window frame manufacturing companies are carefully selected based on their dimensional stability, and are used in a three-ply form to prevent warping.
The moisture content of wood is also an important parameter which affects its stability; it is systematically checked and should remain between 10% and 12% relative moisture content.
Three-ply Meranti wood of cross-section 72×86 mm for the manufacturing of frames of cross-section 68×77 mm (I.V. 68 mm). Dotted lines show the three-ply construction of the upper piece.
THE CONSTRUCTION OF WOODEN DOORS AND WINDOW FRAMES
The construction of windows and doors from wood is a timeless activity, which however has in recent decades become a particularly complex integrated industry, digitally controlled and subject to strict certification.
The technological infrastructure required for this production is sophisticated, as wooden frames are not produced from pre-formed parts. This fact as well as practical difficulties connected to the processing and varnishing of this natural material, demand particularly well-organised facilities with CNC machinery, thorough quality control and advanced automation.
The development of wooden doors and window frames towards the end of the 20th century took place mainly in Germany, where the basic construction methods were perfected.
This technological and design development led to the classic modern cross-section of 68 and 78 mm, the use of slot-and-tenon joining, double glass sheets and the circumferential encasement of the frames.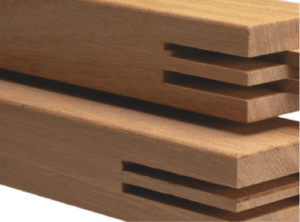 Double slot-and-tenon joint with transverse and vertical pins, of a frame made from Iroko wood.
Diagram of a window with right hand tilting half. The points of connection of the panes with the encasing frame are shown in green and the locking points of the pane at the perimeter are shown in red.
CHARACTERISTICS OF THE GERMAN WINDOW AND DOOR FRAME SYSTEM
Three-ply seasoned wood
Double rubber insulation sealing
Circumferential locking system for greater security
Double or triple glazing for energy efficiency
Metallic guttering for water-shedding
Ecological water-based varnishing to withstand weather conditions.